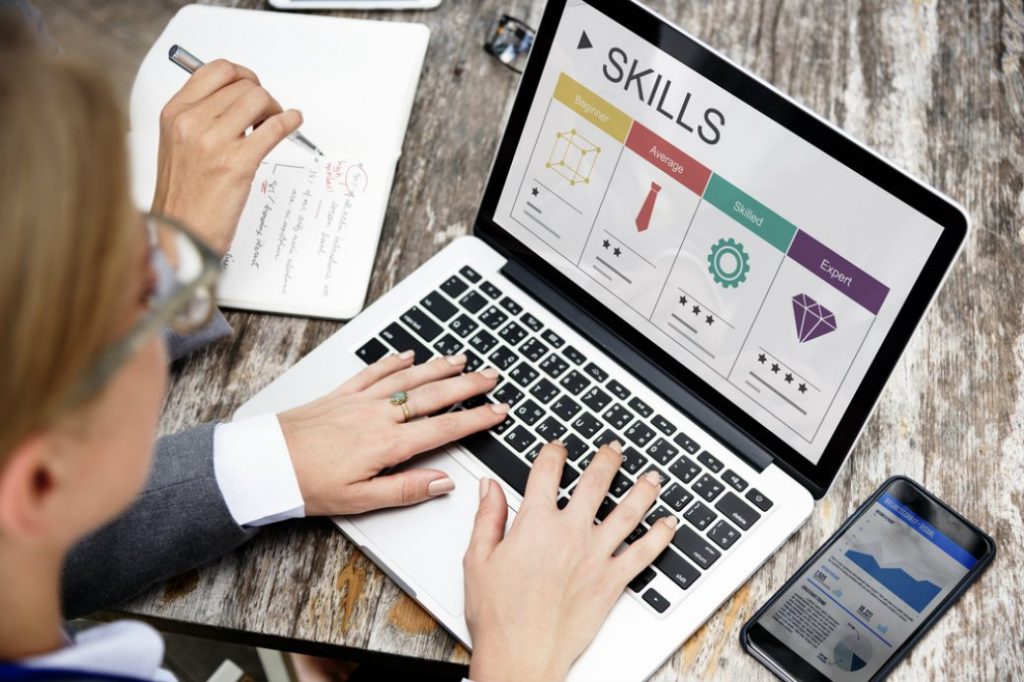 What are the key hard skills recruiters and employers are looking for in 2023? Whether you're thinking about upskilling or looking for a new job, it's helpful to know what skills employers are looking for right now. Especially now that so many companies have drastically changed their way of working in the past year. To give you a hand, we have listed the top 5 hard skills for 2023 for you!
What is the difference between hard and soft skills?
Hard skills are skills learned through education or training. For example, learning to use software, machines, or other tools. Soft skills are personal qualities that a person develops over a period of years.
Now that the difference between hard and soft skills is clear, let's see which hard skills are important now in 2023.
This is the top 5:
1. Basic computer skills
If you've worked from home a lot in the past year, you know how important it is to know the hardware and software of your computer or laptop. Today, basic computer skills are indispensable for many positions in almost every industry.
Improve your computer skills with training that teaches you the basics of working on a laptop. Look for a course that teaches you how to use the most common computer programs like Excel, Word, PowerPoint, and video platforms like Teams and Zoom.
2. Presentation skills
Previously, presentations were almost always physically in the office, in front of an audience. These have now mainly become online presentations. You will have to sharpen your presentation skills and especially learn how to give more interesting (online) presentations.
For beautiful (Powerpoint) presentations, look for ready-made templates or use the templates (in-house style) that your employer has. Take a course to brush up on your speaking skills.
3. (Team) management skills
Now that most teams no longer work together in the same building, many companies see how important team management really is. Remote management has spawned a new set of skills that are now important to managers and team leaders: strategic planning, budget management, recruiting, business analytics knowledge, and industry-specific skills.
Improve your (team) management skills with webinars, training sessions, or by practicing a lot with your team at work. Ask often for feedback on how you're doing so you know which areas of your management skills you can improve.
4. Customer service skills
In the past year, more companies started interacting with their customers remotely. That means employees and departments that normally have little personal contact with customers now need customer service skills to help their businesses and customers.
The hard skills required for a job in customer service:
– Knowledge of collaboration platforms
– Experience using CRM software
– Good knowledge of the product or service the company offers
– Knowledge of email and phone usage
To improve your customer service skills, take a call center agent course that teaches you how to handle questions, complaints, and complicated customer situations.
5. Sales skills
With many stores closed temporarily or even permanently, many companies are eager to hire people with strong sales skills. They can ensure that customers keep coming back, even in difficult economic times. The hard skills you need to sell include experience with sales software, you must have the ability to close the deal, product knowledge, and knowing sales techniques through social media.
Truly exceptional sales skills are often developed through a lot of experience, but you can best learn the basics with online training sales techniques. If there is a sales department in your own organization, or if you have a friend or acquaintance who works in sales, be sure to ask for insider tips too!
So these are our top 5 hard skills for 2021! Now that you know what employers are looking for this year, it's time to start working on your skills so you can land that dream job or get that well-deserved promotion.
Are you looking for a (new) job? Do you prefer personal contact? Our consultants are always available for career advice and questions about vacancies. Click here to speak to one of our agents!
Useful links:
Resume Writing
Cover Letters
Résumé Questionnaire
Job Search
Written by Bob Hubner